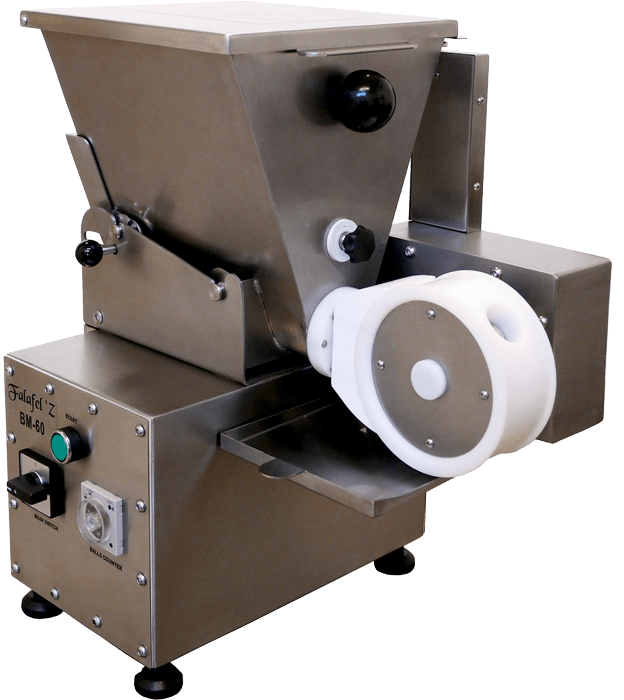 | Terms | 14 Months | 24 Months | 36 Months | 48 Months | 60 Months |
| --- | --- | --- | --- | --- | --- |
| As low as | $332.50 | $187.29 | $128.51 | $99.18 | $81.63 |
Falafel Machine (without fryer)
---

---
Schedule a call with our support person to learn which machine is right for your needs
Designed to produce balls – will fit over existing fryer
Compact dimensions & Easy handling – 18" L / 14" D / 21" H (45cm L / 35cm D / 54cm H), unit weighs 55Lbs (25Kg). Electric source: 110V
Versatility – Can be mounted on any existing fryer using a universal adapter
Large number of balls per cycle – depending on the size of the fryer, it is possible to fry thousands of balls per hour. Machine can produce 3,600 balls per hour
Effortless maintenance – easy to remove and clean the four sub-assemblies:
(i) Mixture hopper (ii) Rotary ball generator (iii) Teflon adaptor (vi) residue collecting tray
Removable Hopper - easily comes off for cleaning or storing in a refrigerator with remainder falafel mixture.
Simple operation – control panel with ON/OFF switch only
Fine materials – machine is made of fine materials selected for Heavy Duty use. All metals are 304L stainless steel
Machine Safety – Comprehensive protection
a.) Cut-off switch on hopper door (opening the door while in operation stops the machine)
Optional Mounting Saddle – This saddle is needed when there is no counter on either side of the fryer for placing the machine on it. The saddle is mounted on the fryer side wall. Once it is securely mounted on the fryer wall, the BM60 is placed on the flat surface of the saddle.